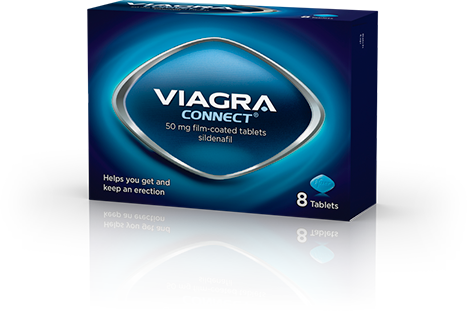 Viagra Connect®
What is Viagra Connect®?
Viagra Connect® is a treatment used for Erectile Dysfunction (ED). It contains 50mg of sildenafil. It is now available to patients, over 18 years, directly from a pharmacy without the need for a doctor's prescription.
How does Viagra Connect® Work?
It is quickly absorbed in to the body – it takes 30–60 minutes to work. Do not take more than 1 tablet a day.If you take it with a meal that has a lot of fat in it, like chips and a burger, your body will take longer to absorb Viagra Connect®.
What if you want to buy Viagra Connect® in the pharmacy?
Before you can buy a supply of Viagra Connect® a consultation with the pharmacist is required. This will be carried out in our private consultation room.
We can fully appreciate that some men may be uncomfortable in requesting treatment for ED . We want to make it as easy as possible for you.
You can ask to speak to the pharmacist when you visit the store and you only need to tell them why you are there.
Do not be worried about the questions you will be asked – we need to ask about any current medication and health conditions to ensure Viagra Connect® is a safe and appropriate treatment for you.
When you get Viagra Connect® you will be given a repeat supply slip. If you bring this in with you the next time you need to make a purchase, the pharmacist doesn't need to ask all of the same questions again. They will verify that nothing has changed since your last purchase before making the supply.
The pharmacist will advise you to get a health check-up with your GP within 6 months of first receiving Viagra Connect®. This will be to check for any underlying medical problems that can sometimes be associated with erectile dysfunction.
Cost of Viagra Connect®?
A pack of 4x 50mg tablets will cost €25
A pack of 8x 50mg tablets will cost €45
Repeat Supply Slip
If you have already gone through the consultation process in another pharmacy make sure to bring the repeat supply slip with you. That way the pharmacist will not need to carry out the consultation process again. This slip can be handed to a member of staff at the counter or you can ask for the pharmacist and give it to them.
To help save you time and for the process to be more discreeet you can purchase Viagra Connect® HERE through our website. Before completing the purchase you will be asked to answer the consultation questions online. You can then collect instore or have the product shipped to you.