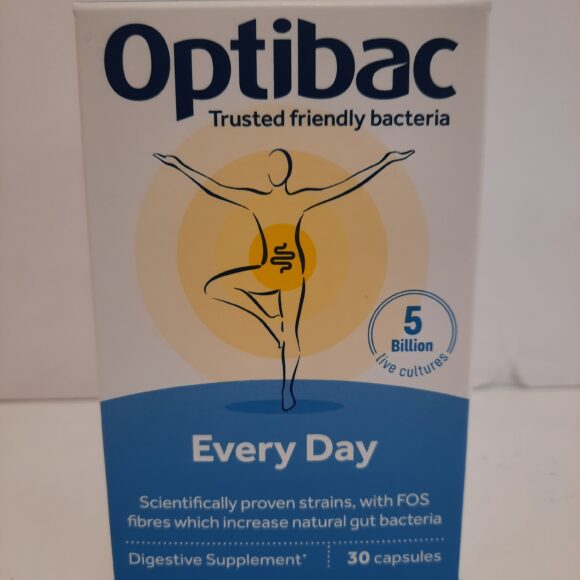 Optibac Probiotics Every Day is a high quality, multi-strain probiotic with prebiotic FOS, providing natural daily support for gut health and general wellbeing*. Each capsule contains highly researched probiotic strains shown in gold-standard clinical trials to benefit digestive health*.
Who is Optibac Probiotics Every Day for​?
For anyone looking for a daily probiotic supplement to support optimal digestive health and overall wellbeing*. A great high quality, sugar-free alternative to yogurts and yogurt drinks.
Key benefits
Bestselling multi-strain probiotic supplement containing 6 different live cultures strains from the Lactobacillus, Lactococcus and Bifidobacterium genera
Contains high quality strains scientifically shown to support digestive and mood health*, and proven to survive through stomach acidity and reach the gut alive
Complements your natural gut bacteria
Each capsule provides 5 billion CFU + 88mg of prebiotic FOS (Fructooligosaccharides). The billions count is guaranteed until end of expiry
Easy-to-take capsule
Recommended for daily use
Suitable for: vegetarians, women during pregnancy and gluten free for those with coeliac disease or an intolerance
Suitable from 1 year onwards. For those unable to swallow capsules open and mix contents with cool food/drinks
No added sugars
GMO free
Free from artificial flavorings or colorings that may be found in other food & drinks containing live cultures
We've reduced the plastic in this packaging by 96% – we no longer use plastic containers
From the UK's most trusted & recommended brand of friendly bacteria supplements. As determined in an independent survey of 1000 British women+.
Available to buy in two pack sizes of 30 or 90 capsules – serving size is 1 capsule per day.