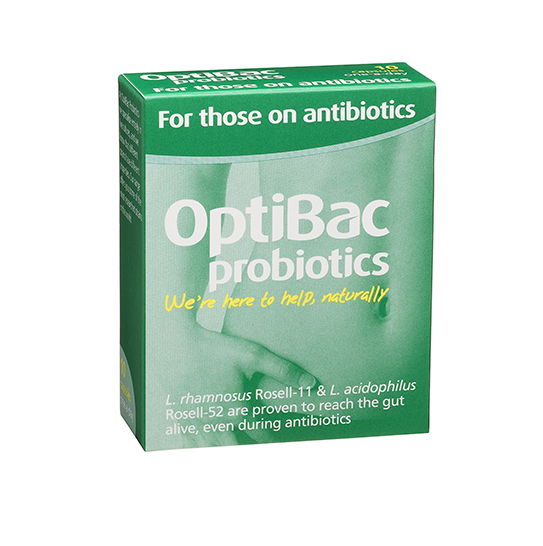 Optibac Probiotics For Those On Antibiotics is a high-quality probiotic supplement formulated to help support gut health*. Contains highly researched probiotic strains, which have been shown to reach the gut alive even when taken alongside antibiotics.
Who is Optibac Probiotics For Those On Antibiotics for​?
For anyone looking for a natural probiotic supplement to support their gut health during a course of antibiotics.
Key benefits
Contains strains scientifically proven to survive stomach acidity and reach the gut alive, even when taken at the same time as antibiotics
The three strains contained in this supplement are highly researched for supporting gut & digestive health*
Complements the flora naturally present in your gut*
Each capsule provides 4.5 billion live cultures guaranteed until date of expiry
Easy to take on the go – no refrigeration required
Vegan, vegetarian, and gluten free (suitable for those with coeliac disease or a gluten intolerance), GMO free
Suitable for women during pregnancy
Safe and suitable from 1 year onwards. For those unable to swallow capsules, open and mix contents with cool drink/food
Recommended for daily use over the course of 10 days alongside a typical course of antibiotics
Can be used on an ongoing basis for those on long term antibiotics
Free from artificial flavorings or colorings often found in other probiotic supplements, foods & drinks
Update April 2021: now also with Bifidobacterium lactis Lafti B94 and providing 4.5 billion live cultures per capsule (previously 4 billion)
From the UK's most trusted & recommended brand of friendly bacteria supplements. As determined in an independent survey of 1000 British women+.
Available in one pack size of 10 capsules – serving size: one capsule a day.