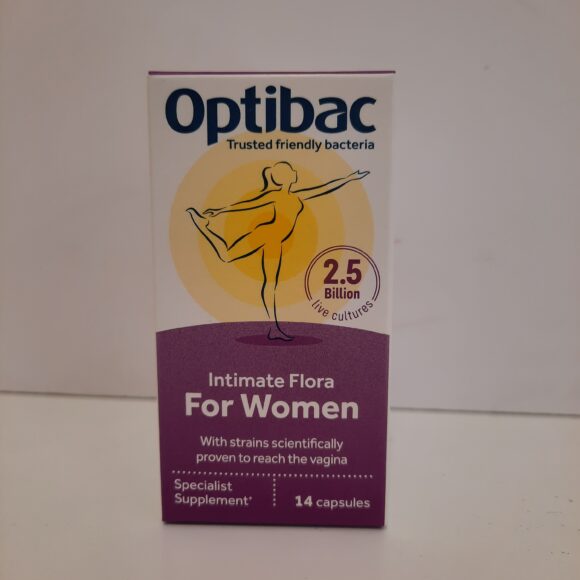 Formulated for women, by women, Optibac Probiotics For Women offers high-quality support for your intimate health*. Taken orally, it has been specifically researched and scientifically proven to reach the vagina alive where it supports the vagina and urinary tract*.
Key benefits
A specialist supplement – specifically designed for the vaginal microbiome not the gut
Quality, multi-strain formula – containing the world-renowned combination of Lactobacillus rhamnosus GR-1® & Lactobacillus reuteri RC-14®, and now also with Lactobacillus paracasei F-19®
Highly researched – backed by over 25 studies and 30 years of research showing safety and quality
Clinically proven – to survive to reach the vagina
A more natural option – contains strains natural to the vaginal tract and supports natural PH levels
Easy to take – a small oral capsule for daily use.  Can be taken alone or alongside other supplements like cranberry, natural anti-bacterials and anti-fungals
Greener packaging – no longer in plastic containers unlike supplements from other brands
Highly recommended – from the UK's most trusted & recommended brand of friendly bacteria supplements. As determined in an independent survey of 1000 British women+.
Recommended use
For best results take 1 capsule daily, preferably with breakfast
May be increased to 2 capsules per day if desired or professionally directed.
For those unable to swallow capsules, open and mix contents with cool food/drinks.
Do not exceed recommended daily dosage.
Can be taken intensively or on an ongoing basis (daily) For Women can safely be taken alongside other supplements in the Optibac range.