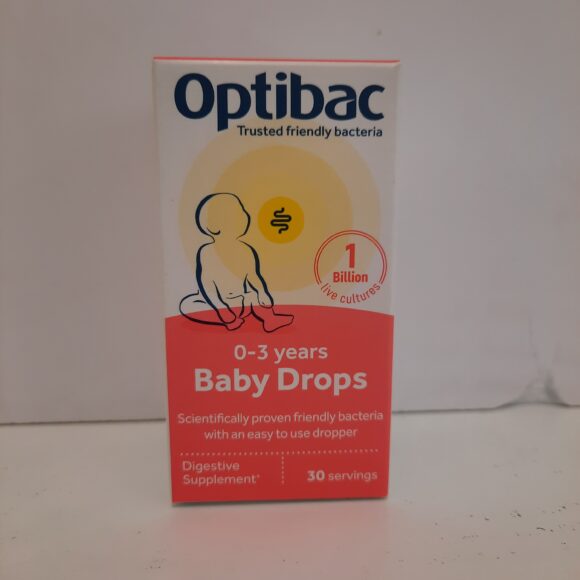 Especially formulated for newborns and babies, Optibac Probiotics Baby Drops is a completely natural and vegan liquid probiotic supplement. Clinically trialled in thousands of infants and shown to support digestion and immune health*.
Who is Optibac Baby Drops for?
Dietary supplement for newborns from birth onwards; infants, babies and young children. Suitable for both breastfed and formula-fed babies.
Key benefits
Contains the world-renowned Bifidobacterium breve M-16V® probiotic strain
Strain naturally occurs in the human body & is uniquely adapted to reside in humans
Complements the gut flora naturally present in your baby's digestive system
Suitable for use alongside medication for colic
Studied in numerous gold standard clinical trials in thousands of babies and young children
Proven both effective and safe for babies and children
Helps promote and maintain a healthy balance in the baby's gut flora
Probiotic strain shown to encourage a healthy gut environment in infants by increasing levels of Bifidobacteria* and to support immune health*
1 billion CFU per serving, guaranteed until end of expiry
Proven to reach the gut alive
Easy-to-use dropper – administer directly into baby's mouth*, on a spoon or mix into cool milk or food
Recommended for daily use
Winner of 2020 National Parenting Product Awards and Nutra Ingredients Asia Award 2019 for Ingredient of the Year: Infant Nutrition
From the UK's most trusted & recommended brand of friendly bacteria supplements. As determined in an independent survey of 1000 British women+.
Available in one pack size of 30 servings – serving size 0.3 ml (8 drops) as indicated on the dropper.